Writing Center
by Cheryl Chaffin, Director
The Cabrillo College Writing Center serves all students enrolled at the school and currently taking courses in which written work is required. We work with students across the curriculum and in multiple subject areas, including nursing, theatre arts, history, philosophy, sociology, ESL and English. The Center tutoring staff—six lab instructional assistants and two Cabrillo student tutors—strives to provide students with composition and critical thinking skills to enable them to compose successful essays and other college assignments on their own. We work closely with learning communities across campus, ACES, STARS, and Puente, to provide pre-transfer and transfer level students with support in the development of writing and critical thinking skills that will ensure their academic progress over the long term.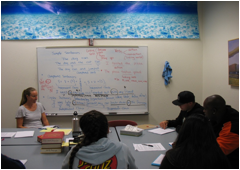 English 100 lab classroom, instructor and students
Online Writing Lab (OWL): All Cabrillo students currently enrolled in an online course have access to Online Writing Lab, or OWL, and may submit papers online to an experienced tutor who will read the paper and respond with substantive feedback within two days. Finally, the Center offers English 100L, a one-unit grammar lab, to those students, including STARS and Puente students, enrolled in an English 100 composition course.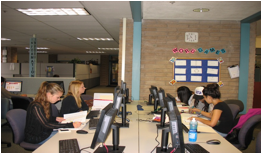 Writing Center computer lab
Location and Study Areas: The Center, located on the Aptos campus (adjacent to and upstairs from the library in Building 1000), boasts a lab of thirty computers for student work and Internet access for academic study and projects. There is also ESL Room, where ESL students and others are invited to work quietly at tables and computers. There is an open LRC study area between learning centers as well.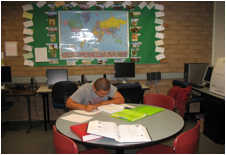 ESL lab, student at work
Log in and Referrals: Students are asked to sign into a database when visiting the Writing Center. Instructors receive an email request to refer students electronically once they've visited the Center. On the first visit a student will register and create an account. Thereafter, students log into the Center to use the computers, the workspace, and/or to request tutoring.
Hours: Our hours are 9-6 Monday through Thursday and 9-3 on Fridays. We look forward to welcoming your students and to helping them successfully reach their academic and career goals.
Integrated Learning Center / Tutorials Center / Reading Center / Writing Center / Math Learning Center